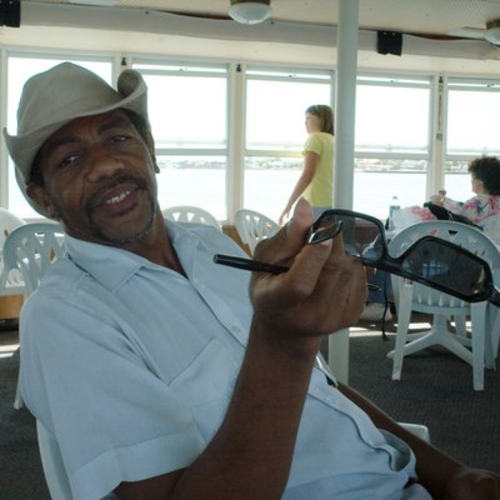 II Corinthians 6:16-18 says: And what agreement hath the temple of God with idols? For ye are the temple of the Living God; as God hath said, I will DWELL IN them, and WALK IN them; and I will be their God, and they shall be my people.
A temple is a House of God. A place where He lives. A place where He receives His people. That's you. God lives in you. God is alive in you. He enters into your heart and mind and says: "This is My House".
It's not enough to live in an Old Testament situation and have God's Holy Spirit walk WITH you and COME UPON you. We're in the Dispensation of Grace. We're living under a New Covenant God has made with man through the sacrifice of the Lamb of God and the shedding of the Perfect Blood of Jesus, the Christ.
It's time to enter into the newness of relationship with God.
On January 29, 2012, Pastor Lorenzo T. Wright, Sr. asked: "Can you carry Him?"…He exhorted the congregation at Rhema Healing and Deliverance Missionary to "Carry Him". The Lord, Our God has walked beside us; He has carried us; and it's time to take the personal relationship with God through Jesus Christ to the level HE desires.
Solomon built his house; then he built a House of God.
You have built yourself up; you have established your self; you have built your Christian life; now it's time to live as the Temple of the Lord.
When Pastor Wright spoke those words, they made me remember the Scriptures and notes I had for this message: "Living as the Temple of the Lord".
In 2012, we're going to enjoy a refreshing of our anointing as God reaches out to elevate us to a higher level in Him.
But we are exhorted to prepare ourselves for that refreshing indwelling of the Holy Spirit of God.
My desire is to be "closer than before; closer than I've ever been"; you've heard that song; "Wrap me in your arms"…my, my, my…Hallelujah. You've got to see it even now. You've got to feel it even now.
Our praise has to reach a higher level. Our worship has to reach a higher level. To whom much is given, much is required.
Do you already consider yourself to be a temple of the Lord in whom dwelleth the Holy Spirit of God? Are you one who desires to be a holy temple of God? Then elevate your level of praise. God lives in your praise. Create that atmosphere of praise that invites the presence of the Holy Spirit of God into your self. It is your praise that makes Him WANT to dwell in you as a Temple of the Lord. Say: I AM His Temple".
The Bible continues at II Corinthians 7:1 and 2: Having therefore these promises, dearly beloved, let us cleanse ourselves from all filthiness of the flesh and spirit, perfecting holiness in your fear of God. Receive us; we have wronged no man; we have corrupted no man; we have defrauded no man.
Say: "I need to clean up God's House and keep it clean".
Cleaning up God's House, the House of God, the Temple of the Lord means cleaning yourself (myself) up and keeping yourself (myself) clean in the sight of the Lord.
And that doesn't mean just washing your "face and neck and ears" like my daddy used to remind me to do…And he said: "Brush your teeth early in the morning, it brings you fully awake". All that's fine when we only have to consider cleaning our natural selves; but, now, we need to consider cleaning our spiritual selves and keeping our spiritual selves clean so the Lord, Our God, will WANT to STAY in His Temple; His House. How many people want that? You invite Him and He will surely enter in to you.
Help me, Holy Ghost.
This next Scripture is going to help tie it all together. Look at I Corinthians 12:7-14 where the Bible says: But the manifestation of the Spirit is given to every man to profit withal. For to one is given by the Spirit the word of wisdom; to another the word of knowledge by the same Spirit; to another faith by the same Spirit; to another the gifts of healing by the same Spirit; to another the working of miracles; to another prophecy; to another discerning of spirits; to another divers kinds of tongues; to another the interpretation of tongues.
But all these worketh that one and the selfsame Spirit, dividing to every man severally as He will. For as the body is one, and hath many members, and all the members of that one body, being many, are one body: so also is Christ. For by one Spirit are we all baptized into one body, whether we be Jews or Gentiles, whether we be bond or free; and have been all made to drink into one Spirit. For the body is not one member, but many.
Verse 18: But now hath God set the members every one of them in the Body, as it hath pleased Him.
Verse 20: But now are they many members, yet but one body.
Say: "God chose me to be a part of His Temple".
Verse 27: Now ye are the Body of Christ, and members in particular.
I should be able to hear shouts all across the land when you realize that. If you never felt you were special to God, before, you should, now, because He's speaking directly to you.
Hallelujah!
Verse 28 breaks it down a little more: And God hath set some in the church, first apostles, secondarily prophets, thirdly teachers, after that miracles, then gifts of healings, helps, governments, diversities of tongues. My calling is that of a Teacher; but if I Teach, there should be some fruit. I'm planting the seed of the Word in you and believing God's Holy Spirit will water it and nurture it until it comes forth in you and bears the desired Fruit of the Spirit.
We are the body, the temple; Christ is Spirit. Christ is the Spirit living within us, making us one.
Are you getting this message? Do you like this food I'm feeding you? It's food, to me, for it sustains me. Um, Yum…and God wants us to grow fat and sleek on His Word. Eat up! Hallelujah!
I thank God for His Word, His Will, His Purpose, His Power, His Plan, and especially - His Peace. It's time for us to enter into His Peace. It's time for us to enter into His rest.
Come join me. His yoke is easy and His burden is light. Living as a temple of the Lord is God's Plan for your life. Yield to God's Plan and be blessed.
It's time for us to acknowledge we're living in full view of Jesus. There's no hiding. There are no secrets from Him. And He won't tolerate us straddling the fence. I'm a witness, Hallelujah. The Lord, Our God would rather we were hot or cold to Him. The lukewarm, the Bible says, He will spew out of His mouth.
If we want to remain blessed and highly favored, we need to present ourselves a LIVING sacrifice unto the Lord. The Foundation, the Chief Cornerstone, which is Christ, requires obedience…and obedience is better than sacrifice.
The Foundation of our very lives is Jesus; the Word made flesh. We need to acknowledge He lived on earth as we do; was tempted as we are; but He kept His Temple clean in preparation for entering into His destiny. He is our Role Model and we need to follow His lead. He entered into Glory. He sits at the right hand of God. We have but to follow how he thought, how He prayed, what He said, what He did…His words and deeds are examples for our lives in the natural. We must express Love with our words and deeds in order to be more and more like God every step of our walk with Christ, for God is Love, and it behooves us to emulate the example Christ set for us. He set the standard and it should be our striving to meet the standard set by Him.
And we don't have to do it alone in an attitude of human frailty. He said: "I'll never leave you nor forsake you." There is nothing that you and the Spirit that is Christ in you cannot overcome, together. Because now you're Christian. You're Christ-like. You're like Him. He's not going to leave Himself, Amen?
You've chosen the better path to the Kingdom when you make your decision to follow Christ on that path.
The in-dwelling of God's Holy Spirit which is the motivating Power of God in your life helps you to build your Christian life and to live as the Temple of the Lord.
The Holy Spirit of Almighty God is Your Teacher…Your Guide…And is living in the temple you have built. He's alive in your Christian life.
Continue on with the Foundational Christian Principles needed to live in this Christian life and temple you've built according to God's Plan and God's Will.
For further enjoyment and edification, also read John Chapters 15, 16, and 17.
Remember: I point to the Word; the Word points to Jesus; and Jesus points to the Kingdom. Follow the path. Build the Temple and live in it.
Min. Howard E. Lewis presents Drumming and Scripture presentations at churches and church programs; shares with us from The Teacher of God's Word and facilitates Christian Performing Arts Workshops in the areas of Percussion, Praise Movement, and Drama Ministry.
yeshuamuntu@yahoo.com or (904)824-9328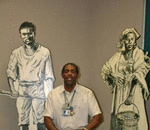 Posted By: Howard E. Lewis
Saturday, February 18th 2012 at 4:59PM
You can also
click here to view all posts by this author...