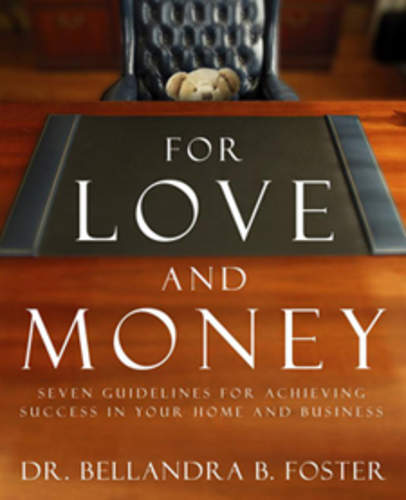 For Love and Money: Seven Guidelines for Achieving Success in Your Home and Business, presents seven principles for the reader to follow in their quest to become an entrepreneur in addition to being a spouse and raising a family. In this era of changes in our family structure, this book lets the reader know that it is possible to maintain your relationship with God, who will show you the precise priority for your life, in order to have a prosperous family while becoming a successful entrepreneur. This book presents the seven guidelines in a clear, realistic manner by the author who is a female entrepreneur who started as a home based, sole proprietor.
The text begins with advising the reader to define their business under the guidance of God. The next step involves identification of our passion and purpose, to insure they are an integral part in the business being pursued. The principles explore refining our business vision and making sure our family is kept in the right perspective as the business plans mature. Once the business is progressing, whether the owner is a sole proprietor, or has hired staff, it is important to maintain the proper function of the business to sustain motivation of the officers and staff. The final chapters discuss knowing and accepting the costs of being the boss while maintaining the priority that God has set for yourself, your family and business.
Super Parent Wishes and CEO Dreams?
Have you longed to contribute to household income with your own small business--then wondered how you could do it and keep your family thriving, as well?
Bellandra Foster kept God first, her marriage and children foremost--and became the successful entrepreneur she'd always dreamed of being! Her seven "no-nonsense" guidelines will show you, also, how to:
1. Define your business, guided by God
2. Identify your passion, personality, purpose
3. Refine your vision along the way
4. Maintain perspective as the business grows
5. Sustain motivation among staff, siblings, and spouses
6. Accept the subtle costs of being the boss
7. Make room for "Cuddle Time"
Start the company you've always wanted--
and keep the home team winning, too!
Posted By: Minister Celeste Kelley
Tuesday, October 28th 2008 at 2:43PM
You can also
click here to view all posts by this author...