Have you ever wondered what God is up to? Ever feel alone, abondoned like God is far away? Like you've been cast away?
Ask yourself these questions:
Am I abiding in Christ by keeping his commandments (love God with all of me- love others as self and as Christ loves me)?
Am I being fruitful?
Am I walking in His ways?
If your answer is yes sister I have GREAT news for you...you're not cast away, you're being pruned. You are not BARREN you are BEARING! God will clip you not to stunt your growth, not to destroy you, but only for more fruitful growth and that your fruit shall REMAIN. Your fruit will be ripe for the picking - your bloom will soon be in season. Arise and spring forth for Christ is alive in YOU!!! Blessings...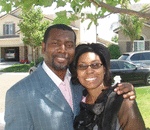 Posted By: Pastor Pamela Chea
Saturday, April 11th 2009 at 9:58AM
You can also
click here to view all posts by this author...