Although many women have moved from the backroom to the boardroom, there are still inequities when it comes to their relationships. Along with the employment gains women have made, there are still remarkably high numbers of women, rich or poor who choose to remain in relationships where domestic violence is prevalent.
I was asked basically the same question by Geraldo Rivera. He posed it in relation to how I would counsel Rihana, a high-profile victim of domestic abuse inflicted upon her by her celebrity boyfriend, Chris Brown. Before I answer the question, let me share some statistics from my recently published book, "How To Get To The Palace From Your Prison: Joseph's 14-Step Program to Overcome Loneliness, Depression, Discrimination, Barrenness, & Abuse"
(www.lulu.com/content/1852847).
Estimates range from 960,000 incidents of violence against a current or former spouse, boyfriend, or girlfriend per year, to three million women who are physically abused by their husband or boyfriend per year. Around the world, at least one in every three women has been beaten, coerced into s*x ,or otherwise abused during her lifetime. Nearly one-third of American women (31 percent) report being physically or s*xually abused by a husband or boyfriend at some point in their lives, according to a 1998 Commonwealth Fund survey. Women are seven to 14 times more likely than men to report suffering severe physical assaults from an intimate partner. The health-related costs of rape, physical assault, stalking, and homicide by intimate partners exceed five point eight billion dollars each year (CDC study). On average, more than three women are murdered by their husbands or boyfriends in this country every day. In 2000, 1,247 women were killed by an intimate partner. The same year, 440 men were killed by an intimate partner.
In a nutshell, from my experience women, rich or poor, remain in abusive situations typically because of low self-esteem, fear, conditioning, exposure as a child to domestic or child abuse in the home, poverty or the inability to financially provide for themselves and their offspring.
The key to solving the problem of domestic abuse is multifaceted. Providing housing, employment, and food will not make the problem go away. This is clearly evident in the fact that domestic abuse does not discriminate and is found all over the world regardless of income, race or class. Please note that domestic violence is also found among lesbian and gay couples.
The approach to solving domestic violence will take the cooperative effort of first of all the couple, who must acknowledge that there is a problem and they must be willing to seek help. If they chose to stay together, not only does the victim need help, but also the abuser, who often suffered abuse at the hands of a parent or someone in authority over them at some point in their life.
It is said that it takes a village to raise a family. To end domestic violence we will need all the resources that a village can offer to come together and work side by side- family, relatives, friends, police, school, counseling agencies, the church, government and legislation to end this dysfunctional behavior that is eroding the fabric and stability of families and relationships all over the world.
Let's put and end to domestic violence against men, women and children today! Any ideas on how we can get started? Let me hear from you.
© C. Joyce Farrar-Rosemon 2009
You Can Be A Winner At Life!
www.womensempowermentseminars.com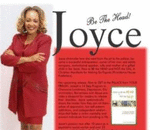 Posted By: C. Joyce Farrar-Rosemon
Friday, May 15th 2009 at 5:37PM
You can also
click here to view all posts by this author...