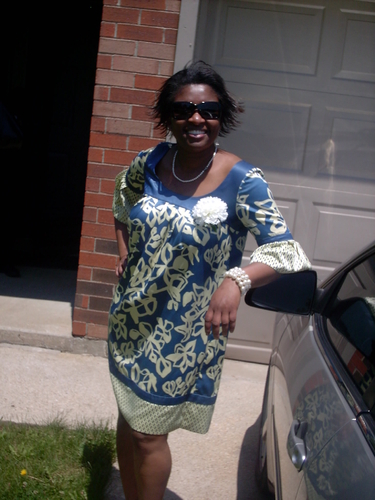 This has been such a blessed week for me. All praises to God. I pray your week has been blessed as well.
Let me tell you, the devil was aware of God's mandate to me for this week, that is, that I attend Mt. Calvary's Fall Revival to keep my spirit revived, to keep my spirit refreshed, to hear a Word that would be taught just for me and to me. So, despite the fact that the devil has been roaming about in my household this week, God, my redeemder, God my Savior, God my Father, poured out His love and mercy and grace towards me, and I was able to attend the Revival. You see, the devil has no hold over my life or that of my children's, in the name of Jesus. The devil is a liar and he must know that as for me and my household we will serve the Lord (Joshua 24:15). Okay, the devil got the message.
My friends, I don't know about you, but ever since I started studying the Word (instead of just reading), I have been on this euphoric road!! This euphoria helps me in my walk with Christ. It helps me in my commission to the Lord. When the devil tries to get to me, tries to distract me, tries to discourage me, tries to break me, I am still able to keep going, I am still able to keep testifying about the goodness of God, I am still able to sing praises unto to God. I am strong enough to keep on praising God, keep on studying the Word of God, keep on teaching about the goodness of God. I just love being a student of the Word. I get so excited when I get the opportunity to sit in on a lesson being taught by some great teachers of the Word. Sunday I was taught by Rev. Williams where he held class at Pilgrim Baptist Church in Midway (A Job Description For The Church, Matthew 4:23-24). Monday, I drove down Todds Road, on my way to Mt. Clavary church all excited, got there and then oops..; Tuesday, I was taught by Rev. Travis (Burn, Baby Burn, Exodus 3:1-10); Wednesday by Rev. Moore (Can I Get A Witness, Mark 16:15-18); and Thursday by Bishop Carter (The Difference That Jesus Makes; It is Time To Rise Up, Luke 5:17-24). God is an amazing God. My friends, I cannot even explain in words to you how much the Spirit is swirling inside of me!! To God be the glory!!
Studying God's Word just brings great joy and peace to my soul. I am excited about carrying out God's commission and assignment. I love serving the Lord and I pray that God continues to use me to be a witness for Him, an effective witness, one who will bring a lost soul back to Christ.
Oh what a difference God has made in my life. My friends I can tell you that since I got serious about my Christian walk and faith:
I don't walk like I used to walk;
I don't talk like I used to talk;
I don't live like I used to live;
I don't give like I used to give.
God made the difference in my life.
Be blessed.
Therese from Belize
Posted By: THERESE WARRICK
Friday, November 13th 2009 at 12:13AM
You can also
click here to view all posts by this author...