When we hear of famous pastors fall into temptation what is our response? After we get over the shock do we immediately begin to pray or deny we ever knew them, supported them or cheered them? Don't get me wrong, preachers are held to a higher standard and the bible says there is no temptation known to man that God does not make a way of escape. Yes they should be held responsible, the Ted Haggards and others. I am simply asking you-what is your response. Do you pray or spread the" bad news". Do you regularly pray for those on the front line. What if it were you what would you want others to do?
We treat them more like fallen angels--eternally dammed. Is forgiveness only for the pew? How should congregations respond?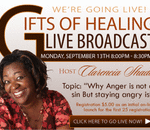 Posted By: Evangelist Clarencia Shade
Saturday, September 4th 2010 at 3:30PM
You can also
click here to view all posts by this author...