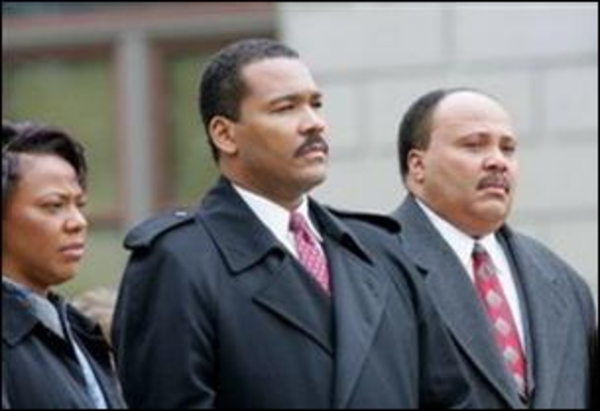 (From left to right: Bernice King, Dexter King and Martin Luther King III)
The children of Coretta Scott King and the Rev. Martin Luther King Jr. faced off in an Atlanta courtroom Tuesday in a dispute over their mother's personal papers that could derail a lucrative book deal.
The Rev. Bernice King, Martin Luther King III and Dexter King have looked more like adversaries than siblings in recent months. The surviving three King children are involved in three lawsuits.
Dexter King, as the head of his father's estate, is seeking his mother's papers, which are currently in his sister's possession.
Bernice King is refusing to turn them over, claiming her mother did not want to participate in the $1.4 million book deal.
New York-based Penguin Group is threatening to pull the deal Friday without the documents.
Fulton County Superior Court Judge Ural Glanville delayed making a decision Tuesday, instead appointing a special master to determine what documents were at issue. He said it would be impossible for him to weigh in without an accurate inventory.
"Am I putting this thing off? No," Glanville said. "I have to find out what is in contention to begin with."
He said he is aware of Penguin Group's deadline and will resolve the issue as soon as possible.
Dexter King's attorneys said they were concerned his siblings may try to stall in an effort to purposely miss the deadline. Both parties began meeting with the special master after the hearing.
Earlier Tuesday, Dexter King told reporters outside the Fulton County Courthouse that he was saddened by the family feud.
"This is not in the spirit of our parents," he said. "It's not the way we were raised. It's just very disheartening."
He called the legal action between him and his siblings unfortunate, but said he was not the instigator.
"This is really about a power struggle between siblings," he said. "I've included them, but they've excluded me. They're the ones who are trying to change or rewrite history. This is not something I asked for. This is not something I started."
Communication between the siblings is limited now to messages between attorneys, Dexter King said. When asked if his feelings were hurt, he said he was "beyond that" and "numb" to the situation. Still, he said he held out hope for reconciliation.
"You can always rebuild," he said. "Healing takes time. We do love each other. We were raised in a loving family. I think that will prevail."
Bernice King and Martin Luther King III did not speak to reporters Tuesday, but did issue a written statement Monday through their attorney, Jock Smith.
"We are saddened that we are forced to make public statements about family matters that should be handled privately," the statement read. "However, as our father taught us, we must respond to unjust criticism ... Our stand against the publication of the memoirs of our mother ... is not merely a family feud but rather our ongoing attempt to protect and maintain the integrity of our mother's legacy. Although she is no longer here to speak for herself, it is important that the integrity and validity of her voice be reflected."
Posted By: Minister Celeste Kelley
Friday, October 17th 2008 at 3:27PM
You can also
click here to view all posts by this author...